Baked Mezzi Rigatoni
Italian Cooking at Home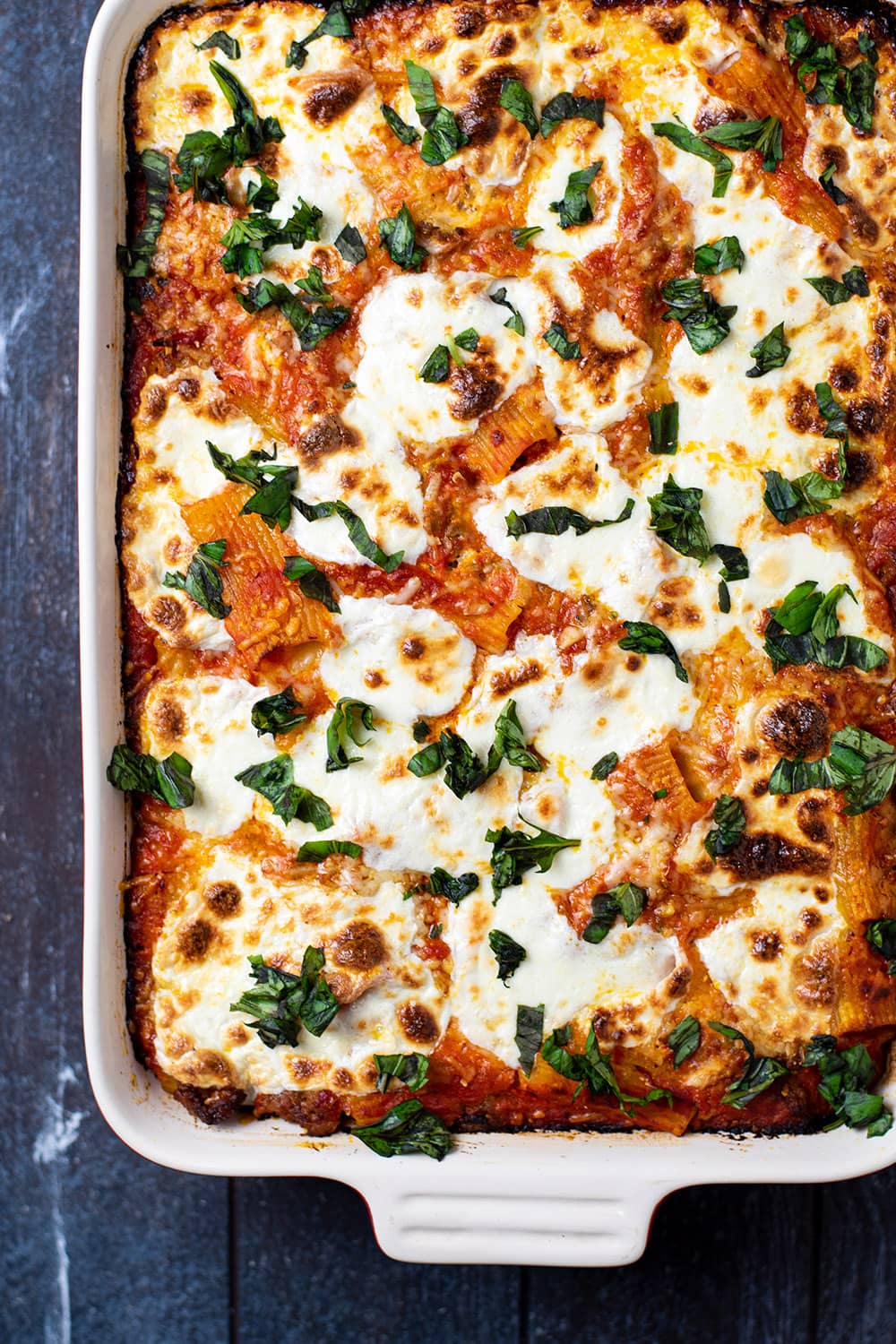 Ingredients
Serves:  6
4 cups of mezzi rigatoni

1 cups fresh mozzarella cheese

3 tbsp of dried basil leaves

2 tsp of fine pink sea salt

2 tsp of black pepper

¼ cup of  organic extra virgin olive oil

1 cup of ricotta 

4 cups of sweet Italian sausage

3 cups of marinara
Vegetarian and Cheese Free Substitutions
substitute sausage for your choice of mushrooms
Instructions
Preheat your oven to 425 degrees F. and fill a large pot with water and a dash of salt. Allow water to come to a boil over medium heat. Add in your pasta and cook till al dente, roughly 10 minutes. Once pasta is cooked, drain the water and carefully transfer your pasta into the same pot once it has cooled. Add in your marinara sauce and stir together. Place the pasta mixture aside for later use.
Add your olive oil to a large frying pan or skillet over medium heat. As your skillet warms up rough chop your sausage or mushrooms into small pieces. Cook for about 5-7 minutes or until they have browned. Add in your salt and pepper and give the sausage or mushrooms a mix to evenly coat in seasoning.
Grease a large 13×9 inch casserole dish and begin to layer half of your pasta, followed by half of your mushrooms or sausage. Next, spread ½ of your ricotta as evenly as you can over the layer of sausage or mushrooms, using a wooden spoon or spatula. Repeat this step and layer the pasta, mushrooms, or sausage and ricotta.
Once you are done, layer the top of your pasta with the remaining marinara sauce and bake uncovered for 15 minutes. After 15 minutes, carefully remove from the oven and top with freshly sliced mozzarella. Place pasta back into the oven for another 20-25 minutes or until the top turns golden brown.
Remove from the oven and allow it to cool for 10 minutes. Top with basil, serve and enjoy!