Oatmeal Dark Chocolate Chip Cookies
Rich and Chewy!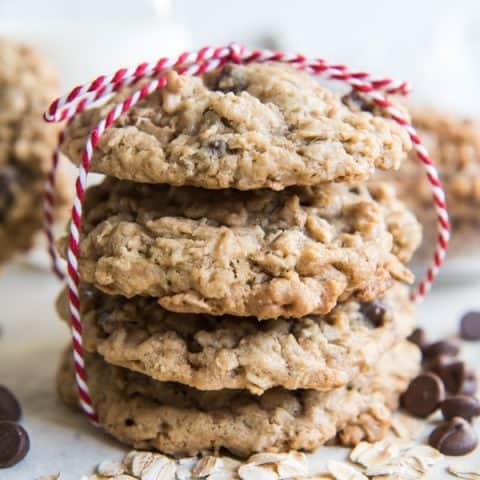 Ingredients
Makes 18 cookies
1 cup organic light brown sugar

1 tablespoon organic date sugar

1 teaspoon organic vanilla extract

1 fresh organic egg

1 cup organic all-purpose flour

1/2 teaspoon organic baking soda

1/2 teaspoon organic fine sea salt

1 teaspoon of nutmeg

1 teaspoon ground cinnamon

1 cup oats

1 cup dark mini chocolate chips

1 cup softened butter
Vegan Option
substitute regular butter and eggs for your choice of vegan butter substitute and 1 vegan egg (2 teaspoons of chia seeds and 2 tablespoons of water)
Instructions
Preheat your oven to 350 degrees F. and combine flour, baking soda, salt, sugars, and spices together in a large mixing bowl. Next, whisk in your egg, vanilla, and melted butter until well combined.

Fold in your oats and chocolate chips until evenly combined. Cover your bowl and refrigerate for 45 minutes to an hour; this will allow your batter to firm.

Place a large piece of parchment paper on a large cookie sheet and begin to scope out the cooking dough using a small spoon or cookie scooper. Place each cookie about 1 ½ – 2 inches apart and bake for 7-9 minutes or until edges are lightly browned.

Allow cookies to cool for 5-8 minutes as this will allow them to slightly firm and prevent the soft cookie from falling apart.

Eat as is or enjoy with a glass of milk!